Have you been diagnosed with "TMJ", TMJ syndrome / disorder, TMD, or do you think you could have problems with your jaw joints?
Did you know that most of these so called "TMJ symptoms" come from tense jaw muscles?
Maybe you don't know that you have jaw joint problems or tense jaw or face muscles, but wonder where the following health issues come from?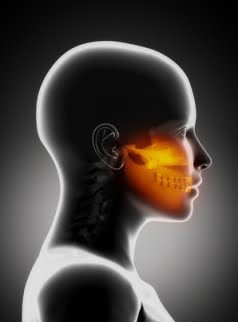 Ear and jaw pain in or around one or both ears (the jaw joint is underneath)
Pressure in one or  both ears (feeling of plugged ears or ear stuffiness)
Ears popping
Jaw clicking
Restricted or locked jaw opening
Bite (occlusal) problems
Headaches
Neck or shoulder pain (or all over body pain) 
What is a TMJ syndrome?

"TMJ" is the abbreviation for tempromandibular joint, which is your jaw joint. The jaw joints are located around your ears. They are said to be the most complicated joints in the body because of their complex construction and therefore functionality.
It doesn't take much to throw this complex equilibrium out of balance and cause the so called TMJ syndrome or disorder. The jaw joints are so sensitive that they even react to a poor posture.
Once they are out of balance, misaligned jaw joints can in turn be responsible for muscular pain elsewhere in your body.

This is because TMJ misalignment causes contractions (=trigger points) in your jaw and face muscles, which then can cause dysfunctional neck muscles. These in turn may impact your shoulder and hip muscles, till finally you feel pain all over your body - without connecting any of it to your TMJs.